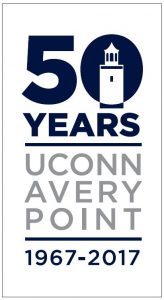 Avery Point's 50th Year Upcoming Events
Keep in the loop:
Do you want to be notified as new events and activities are planned? Want to know the latest campus news? Are you interested in volunteering for an event or donating to the campus?
Please fill out this short form to join our mailing list or to find out about how to get involved!
About Us
The University of Connecticut (UConn) is a public research university in the U.S. state of Connecticut. UConn was founded in 1881 and is a Land Grant and Sea Grant college & member of the Space Grant Consortium.
The Avery Point Campus was founded in 1967 on the property that was once Morton Plant's private residence. Beautifully situated on the Long Island Sound, Avery Point excels in offering Research 1 level academics to the Southeastern Connecticut Region, and beyond.
We are excited to celebrate 50 years of excellence and invite you to visit our beautiful campus and join us in the many special events we have planned this year.
UConn's Dairy Bar has made a brand new ice cream flavor in honor of Avery Point's 50th anniversary! There was a community-wide contest for the best name and, after a vote, we are pleased to announce:
Avery Point Coastal Crunch
Named by Avery Point's own Lisa Hastings, Avery Point Coastal Crunch is a pale blue colored vanilla ice cream with chocolate chips and a graham cracker swirl, it is set to hit the shelves Thursday, March 2nd and will be available for purchase at Mort's on the the Avery Point Campus.
Check out the video to see Lisa's unique plan to share her winnings!!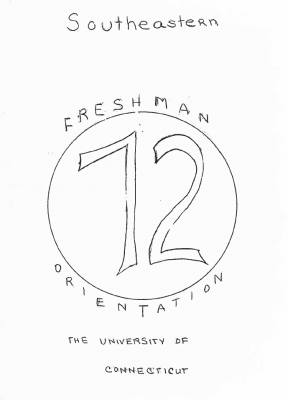 We have unearthed from our records the orientation handbook from one of the very first cohorts at UConn Avery Point, 1968's incoming Freshmen–aka, the class of '72.The handbook is a great link to the past, offering information about the University's policies and procedures on everything from the dress code and how to access cancellations, to financial aid, student organizations, even the campus BOWLING ALLEY(??). It's a really interesting glimpse into the past.
Take a look!
Have an event you'd like to like to add to our year-long celebration?
Funding is available for campus organizations, students, faculty, and staff to develop new or enhance existing events which showcase the Avery Point campus for our 50th.
If you'd like to request funding, please visit our
Event Funding Page